Cutting Edge Photography • Iron Mountain, Michigan Seniors, Weddings, Commercial & Sports Photographer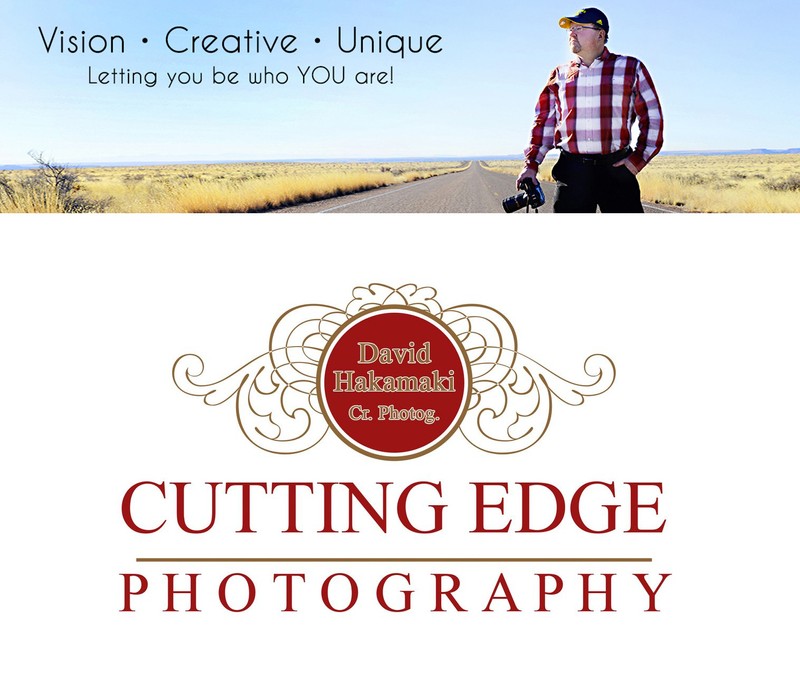 Photographer • International Speaker • Photographic Craftsman
906 • 779 • 5085
443 Tall Pines Drive • Iron Mountain, MI 49801
WE ARE FULLY OPERATIONAL FOR ALL PHOTOGRAPHIC SERVICES. WHILE DOING PHOTOS, WE WILL MAINTAIN SAFE SOCIAL DISTANCING AND ARE FULLY VACCINATED FOR YOUR & OUR SAFETY.
Welcome to Cutting Edge Photography, located in beautiful Iron Mountain, Michigan. Our photography is the premier leader for High School Seniors, Weddings & Destination Weddings, Youth and High School Sports, Families, Commercial and Professionals. David Hakamaki, Cr.Photog., is a nationally recognized Photographic Craftsman by the Professional Photographers of America (PPA), a worldwide speaker & educator on Photography/Business topics at photography and business conventions around the world, as well as a beta tester for some of the largest photography companies in the US.

Cutting Edge Photography's Destination Weddings have graced the pages of numerous magazines and is a "Featured Photographer" (3 our of 4 years) in Door County Travel Magazine, one of Fortune Magazine's top destination locations. He is a nationally renowned Senior Portrait Photographer, Speaking, training and displaying his remarkable senior images at Photography conventions around the globe, including the Society of Photographers (SWPP) in the UK, The Photography Show (UK), CanAm Photo Expo (Canada), the Wedding & Portrait Professionals International (WPPI) and at numerous PPA State Conventions.

David Hakamaki is a Simply Color Lab Simply Senior Dream Team member, a ShootQ Ambassador, an Interfit Photographic Creative Pro, a BlackRapid Affiliate, Fundy Software Featured Photographer and a Savage Universal Featured Photographer.

Coverage includes all of Michigan's Upper Peninsula, Wisconsin & Minnesota, including Iron Mountain, Marquette, Escanaba, Detroit, Ann Arbor, Lansing, Grand Rapids, Green Bay, Appleton, Door County, Wausau, Milwaukee, Madison, LaCrosse, Minneapolis, St. Paul, Duluth and Chicago. Destination weddings include Las Vegas, Jamaica, Mexico, Niagara Falls, New York City, and Hawaii.

Contact David Hakamaki and Cutting Edge Photography in Iron Mountain at 906-779-5085 or by visiting him at www.cuttingedgephoto.net.
Cutting Edge Photography in Iron Mountain, Michigan is your Award-winning Photographer for Senior Portraits, Destination Weddings, Youth Sports, Professional and Commercial Photography. Serving clients in Iron Mountain, Kingsford, Norway, Niagara, Florence, Pembine, Door County, Green Bay, Appleton, Wausau, Marinette, Oshkosh, Sturgeon Bay, Manitowoc, Sheboygan, Marquette, Escanaba, Minneapolis, St. Paul, Milwaukee and Chicago with creative and unique photography, as well as destination weddings. David Hakamaki, Cr.Photog., is a national speaker, educator and renowned photographer. He is a member of the Professional Photographers Association (PPA), Wedding Portrait and Professionals International (WPPI), Society of Wedding & Portrait Photographers (SWPP), Society of International School & Event Photographers (SISEP), and Business Networking International (BNI).