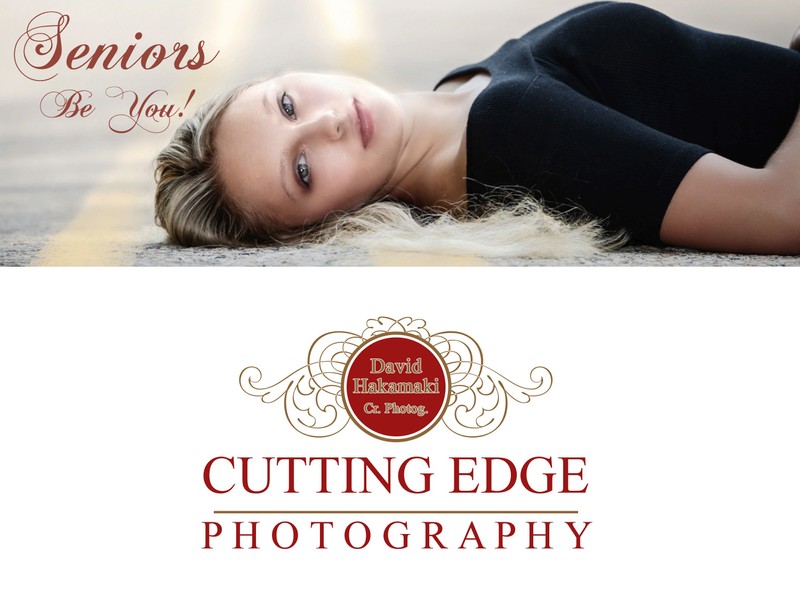 When Seniors want only the most AMAZING portraits to remember their Senior Year. David Hakamaki and Cutting Edge Photography is THE Senior Portrait photographer in the region. Over 15 years of creating stunning portraits and getting images published and nationally shown off.
It's not a part time hobby, it's our job to create magic on every session.
Senior Portraits -- Letting you be who YOU really are!



Several Sessions to Choose From
Express Session - $75.00
You want something simple and easy? One change of clothing in our indoor studio on one backdrop our our outdoor studio. This is our basic session for the Senior or Family who only needs a quick and easy session.

Onsite Session - $90.00
This session is our Onsite senior, family and baby session and allows 2 to 3 clothing changes. You can choose from our trendy indoor studio, elegantly maintained outdoor studio or BOTH. A ton of options for you to choose from. This session is about 1-1/2 hours long, so you aren't rushed. This session can include traditional portraiture, wild and crazy, casual or dramatic.
Rockstar Session - $150.00
Jaw-dropping.....outstanding fun.....totally a blast.....awesome! These are words used to describe our ROCKSTAR Sesson by Seniors. Bring along 4 to 6 clothing changes (or, just bring more and we will see what matches up best). We photograph you in our indoor and outdoor studio, then sweeten the session with an extensive tour of unique areas around town. Do you want to look like a rock star? This is the session where you can stand out! Bring your cool fashions, sports uniforms, pets, favorite props and multiple attitudes. We try to get as many outfits in as the time allows, but may not get every outfit. OUR MOST POPULAR SENIOR SESSION!!
FashionPLUS Session - $250.00
Do you want to look like a Super Model? This session takes Senior Portraiture to the next level. We use our professional training in fashion and modeling to allow you to look like your session came off the runways of America's Next Top Model. Bring along 4-6 changes of clothing for a three hour session (bring your energy drinks....you'll need it). White on white, black on black, high key, low key, on location, around town, plus a touch of our traditional session for Mom and Dad. This session will wear you out! Includes hair and makeup at one of our favorite area salons, so you can look your best when you come in for your session.

Call David Hakamaki to schedule your session at 906-779-5085.
CUTTING EDGE PHOTOGRAPHY - Wickedly Cool Senior Portraits